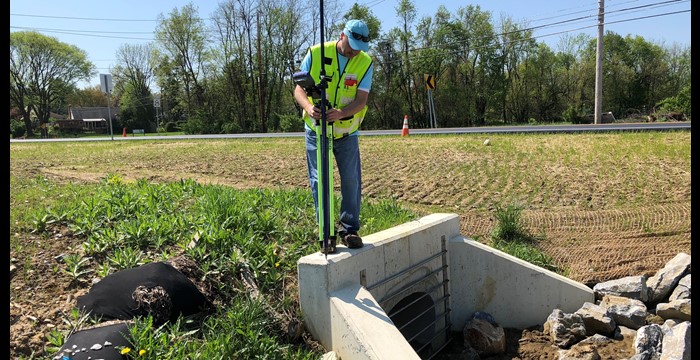 CEG combines the art of Surveying with the science of 3D Modeling to create the highest quality result. 
Our team of land surveying professionals includes a Professional Licensed Surveyor (PLS) and a licensed Small Unmanned Aircraft Systems (sUAS) pilot. Together with experienced field and office staff, the Surveying Team offers comprehensive land surveying and drone services to the design and construction industry. Our growing team of professionals is challenging conventional survey methods by gathering GPS tagged imagery and/or utilizing Ground Control Points to generate 3D Models that allows users to visualize and measure topography ground conditions for planning and design purposes. Using a federally registered drone, an assortment of cameras and lenses, control points for ground captures, RTK Network GPS units, conventional survey instruments and a proven work-flow, our team is forging new ground for planners, engineers, and designers.
EFFECTIVE USE OF TECHNOLOGY
CEG has invested in the brightest talent, and in turn asked them to master the technology that will provide superior results for our clients at a reasonable cost.
DRONE SERVICES
CEG utilizes aerial drones (sUAS) to efficiently capture data in hours that might otherwise take days. Even more important, drones can access places that present a risk to the safety of humans. We also offer underwater drone (ROV) services. At CEG we view drones as another tool in our toolbox, doing whatever it takes to deliver the results that our clients need.
A NEW STANDARD IN 3D MODELING
3D Models can be created to analyze the surface features of large parcels of land, roadways, and critical pieces of infrastructure. The data can be captured more efficiently than by using traditional topographic survey methods, and the model provides a valuable repository of site conditions that can be accessed time and time again without the need for return trips to the site.
INCREASE YOUR PRODUCTIVITY
Photogrammetry provides a faster, safer, cheaper, and just as accurate option for data collection in an easy-to-use standard drawing file.
Construction Site Survey & Quantity Monitoring
Detailed Models of the Exterior of Large Buildings
Roads and Highways
Remote Terrain
Flood Plain Assessments
Restricted Access Sites
Cell Towers & Similar Structures
Natural Resource Management
SUPERIOR TECHNOLOGY AT AN AFFORDABLE PRICE
The models use state-of-the-art photogrammetric UAS and sensor technologies to fine tune data and report results. Our strategy allows us to offer superior technology to ensure you receive the highest quality results at an affordable price. Our techniques allow for the transfer of raw images into reliable data layers that are required for planning and design.

EXPAND YOUR CAPABILITIES WITH CUSTOMIZATION
CEG offers an array of customization that expand the functionality of the models, making your investment more versatile and productive. These customization's can include: flood plain data, parcel data, or demographic information to achieve an accurate representation of site conditions anywhere in the Country.

ASK FOR A DEMONSTRATION ON ONE OF OUR SUCCESSFUL PROJECTS
• Eastern State Penitentiary
• Painters Crossing - Chadds Ford
• The Reading Railroad Pottstown Station - Borough of Pottstown, PA

SURVEYING SERVICES
Pennsylvania PLS
Boundary Surveys
Topographic Surveys
ALTA Surveys
Construction Stakeout
Photogrammetry
3D Modeling
Aerial Drone Services
Underwater Drone Services
CAD Drafting and Design
For immediate assistance with a surveying quote, please call us at 610-705-4500.
If you want to learn more about any of these options, please call us at 610-705-4500 or email info@cedarvilleeng.com.
UAV Mapping | Drone Mapping | UAV Measurement | UAS Drone | Surveys | UAV Flight Plan Management | UAV Topography | UAV Asset | Data Capture | Aerial Photographs | Unmanned Aerial Vehicles (UAVs) | UAV Photogrammetry | Lidar Mapping Basics | GPS UAS | Aerial Surveying | GPS Equipped Drone